Frequently asked questions
Do letters in the product label such as JP or SP indicate any difference in levels of quality?
---
You may have heard that there's a difference in product quality, depending on whether a product label has JP or SP in it, but we're here to put that rumour to rest - there's no difference! Those letters are internal production codes that don't indicate or affect the quality of the product.
---
Can a purchase return be done
---
Yes! It is possible to return purchases and request for refunds. Please visit our Returns and Refund Page for more information.
---
Where is my order confirmation?
---
Your order confirmation will be sent to the email you provided after payment is made.
---
Does order confirmation mean order shipped out?
---
An order confirmation means we have received your order and are processing it. A second will be sent out which notifies you when your gear has been shipped.
---
When will my order ship?
---
An order will be processed within 1-2 working days.
---
Can I return items on sale?
---
We offer great deals via Sales, hence the purchases are final.
---
Why was my order cancelled?
---
Orders will usually never be cancelled. But unforseens issues may arise in terms of physical stock or product availability. We will contact you within 1-2 working days if an issue arises to explain the situation. If you ordered other items, you can still receive the rest of the order. These cancellations are rare, and we do everything we can to make sure that this doesn't happen.
---
How do I identify authentic rackets?
---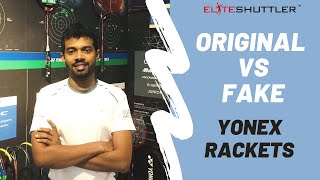 ---
---